Du Pôle Nord au Pôle Sud, Guirec parcourt les mers et le monde avec une petite poule rousse, monique .. FROM THE NORTH POLE TO THE SOUTH POLE, GUIREC, 25 YEARS OLD, TRAVELS THE SEAS AND THE WORLD WITH MONIQUE, A LITTLE RED HEN
À 22 ans, Guirec traverse l'Atlantique en solitaire, sans moyen de communication, en total autonomie. ..At the age of 22, he crossed the Atlantic alone, without any mean of communication, in total autonomy.
À 23 ans, Guirec hiverne 130 jours sans assistance, en total autonomie dans les glaces du Groenland. ..At the age of 23, he stayed stick in the ice of Greenland during 130 days, in total autonomy.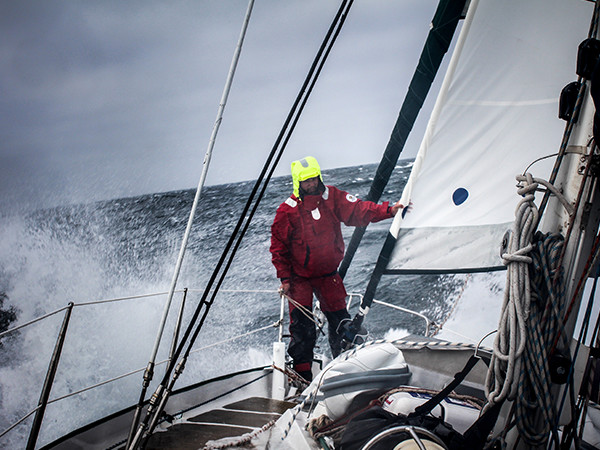 Le Nord-Ouest ..Northwest passage
À 24 ans, Guirec devient le plus jeune navigateur du monde – et Monique la seule poule – à traverser le Périlleux Passage du Nord Ouest en solitaire. ..At the age of 24, he becomes the youngest navigator in the world to cross the perilous NorthWest passage alone.
Et la suite ? ..What's next?
Novembre 2017 ..November 2017
Départ de San Francisco, Yvinec met les voiles vers Ushuaïa en Argentine. ..Departure from San Francisco, Yvinec is leaving for Ushuaia (Argentina).
États-Unis - Argentine ..United States - Argentina
2 mois et demi de mer, pour atteindre leur but. Ils devront traverser le Pacifique dans sa longueur jusqu'aux Canaux d'Ushuaïa ..They will be 2 months and half at sea (with no stop), crossing the entire Pacific ocean from top to bottom, a journey of more than 8,000 miles. Along their route, winds can easily reach 90 miles per hour, and waves can surge 50 feet high.
Janvier 2018 ..January 2018
Passage du Mythique Cap Horn ..Passing the Cape Horn
Février 2018 ..February 2018
Traversée du passage de Drake pour rejoindre l'Antarctique ..Crossing the Drake Passage to reach Antarctica
Remontée de l'Atlantique jusqu'aux Caraïbes, puis traverser l'Atlantique dans sa largeur pour un retour en Bretagne prévu en Novembre 2018 ..Ride up the Atlantic Ocean to the Caribbean. Then crossing it for a return to Brittany in November 2018.
Et lorsque la boucle sera bouclée ? ..And when it will be done?
Guirec compte continuer à réaliser tous ses projets, chose peu évidente puisqu'il en formule un à la minute ! ..Guirec wants to keep fulfilling his dream, not an easy thing as every minute brings a new one!
Sa liste du moment : ..Here is his list of the moment:
Traverser l'Antarctique à pied en total autonomie ..Cross the Atlantic by foot in total autonomy
Traverser à la voile le Passage du Nord-Est au dessus de la Russie ..Cross by sail the North East Passage over Russia
Et pourquoi pas un Vendée Globe en 2020 ? ..And why not attending the famous French race "Vendée Globe" in 2020?
Rendre d'autres poules heureuses : chers propriétaires à vos plumes, toutes les candidatures seront étudiées avec attention ! ..Make other hens happy. Dear owners, all applications will be studied carefully!
Il souhaite aussi partager son amour pour la mer et sa soif de liberté avec le plus grand nombre. ..Guirec also wants to share his love for the sea and show that everything is possible with the greatest number of people.