Du Pôle Nord au Pôle Sud, Guirec A parcouru les mers et le monde avec une petite poule rousse, monique .. FROM THE NORTH POLE TO THE SOUTH POLE, GUIREC, 25 YEARS OLD, TRAVELed THE SEAS AND THE WORLD WITH MONIQUE, A LITTLE RED HEN
À 22 ans, Guirec traverse l'Atlantique en solitaire, sans moyen de communication, en total autonomie. ..At the age of 22, he crossed the Atlantic alone, without any mean of communication, in total autonomy.
LE CAP HORN ..CAP HORN
À 25 ans, Guirec navigue dans le grand sud. Il traverse les quarantièmes rugissants, les cinquantièmes hurlants et franchi le mythique Cap Horn. ..At the age of 25, he sails through extreme South Latitudes and passes the mythic Cape Horn.
À 23 ans, Guirec hiverne 130 jours sans assistance, en total autonomie dans les glaces du Groenland. ..At the age of 23, he stayed onboard, the hull stuck in the ice of Greenland during 130 days, in total autonomy.
L'ANTARCTIQUE ..ANTARCTICA
Février 2018, Guirec rallie l'Antarctique sur l'île de la Déception. Son bateau a subi de nombreux dégâts il doit réparer au plus vite avant que la saison des tempêtes ne le rattrape. ..February 2018, he reached Antartica after rough sailing, he can't stay long, the stormy season is catching up.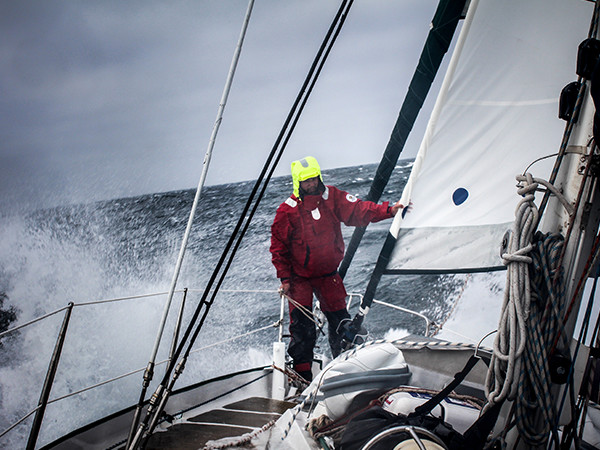 Le Nord-Ouest ..Northwest passage
À 24 ans, Guirec devient le plus jeune navigateur du monde à traverser le Périlleux Passage du Nord Ouest en solitaire. ..At the age of 24, he becomes the youngest navigator in the world to cross the perilous NorthWest passage alone.
LE RETOUR ..BACK HOME
15 décembre 2018, Guirec arrive en Bretagne Nord après 3 transatlantiques retour (en passant par l'Afrique du Sud, Ste Hélène, le Brésil, la Guyane, les Caraïbes et les Açores). ..Dec 15th, 2018. Guirec is back home in North Brittany, after crossing 3 times the Atlantic since Antartica ( stopping by South Africa, St Helena, Brazil, French Guyana, Caribbean and Açores)
et la suite ? ..what's next ?
Guirec et Monique sont aujourd'hui sur leur petite île de Bretagne Nord, Yvinec, d'où le nom de son bateau. Même s'ils méritent un peu de repos, ce n'est pas au programme. Guirec ne compte pas s'arrêter là, la soif d'aventure et de latitudes extrêmes lui collent désormais à la peau. Le prochain projet devrait être dévoilé en 2020. ..Guirec and Monique are living on a tiny island off the north shore of Brittany, called Yvinec, like the boat. Even if they deserve some rest, it won't be their program. Guirec is now addicted to extreme latitudes. His next project should be revealed in 2020.
En attendant, 3 livres ont déjà été publiés : "la fabuleuse histoire de Guirec et Monique" (carnet de bord illustré), "le monde selon Guirec et Monique" (récit complet des 5 années d'aventure), et "la poule qui fît le tour du monde" (livre enfants). Le documentaire de l'aventure est en cours et devrait voir le jour en décembre 2019, pour, qui sait, une tournée nationale d'avant-premières. ..Meanwhile 3 books are already out and will be translated in english very soon.
A travers les conférences qu'il donne, Guirec souhaite partager sa soif d'aventure, transmettre son optimisme et la notion de surpassement de soi, ainsi que sensibiliser le plus grand nombre à la question de l'environnement. ..Through the conferences he is invited to give, Guirec wants to share his love for the sea, transmit his motivation and quest for adventure. He also wants to spread the message of environment matter.