Notre navire, Yvinec ..Our floating house, Yvinec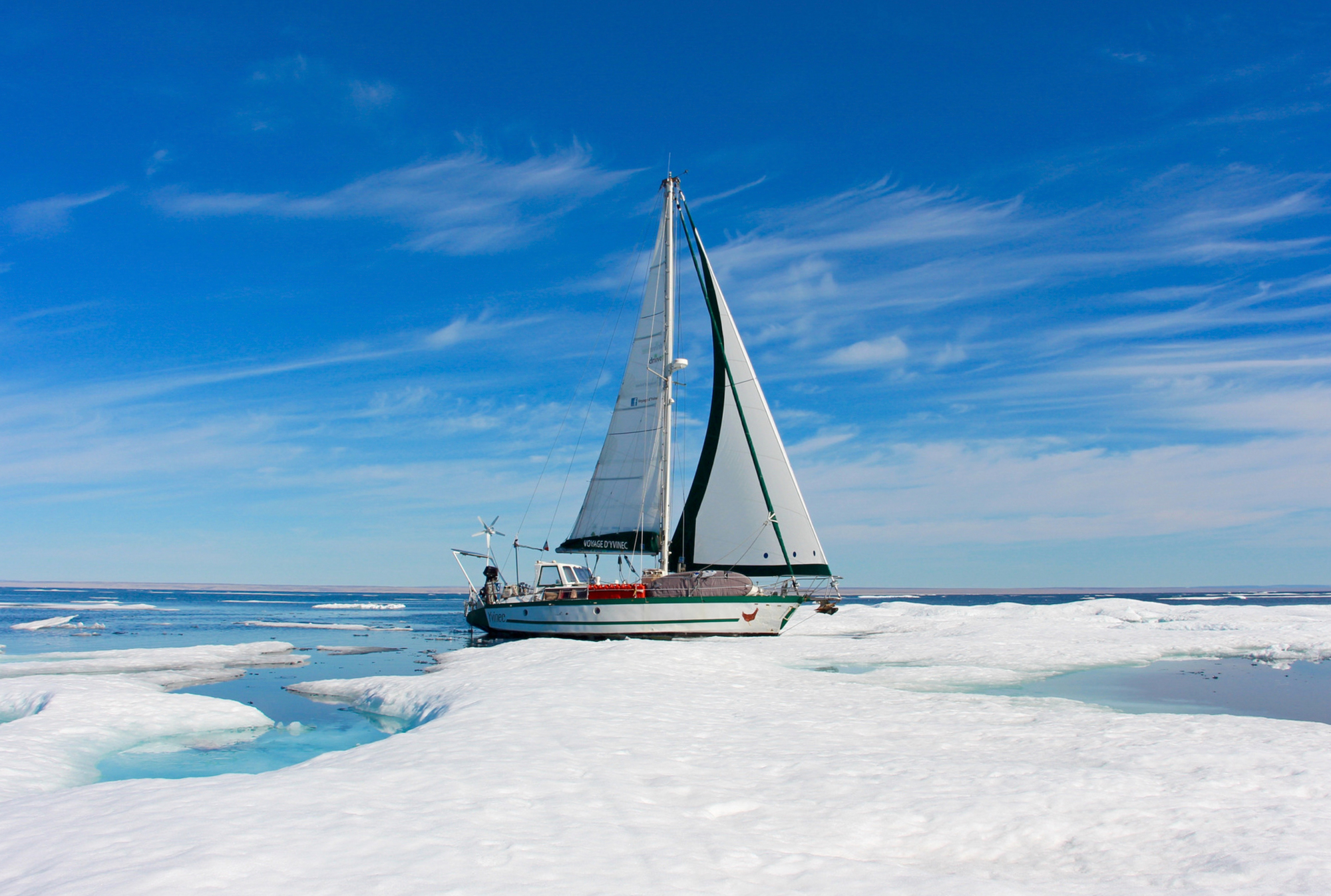 Notre voilier Yvinec est un Scorpion 9 de 1985, construit sur les plans de l'architecte Joël Stabili par un couple d'amoureux de la voile près de Royan. ..Our sailboat Yvinec is a Scorpio 9 of 1985, built on the plans of the architect Joël Stabili by a sailing-enthusiasts couple near Royan, France.
Dans ses vies antérieures, il s'est appelé " Marche ou rêve " (nom prémonitoire !) , " Gwenvidik " puis " Loungta ". Guirec l'a rebaptisé " Yvinec " quand il l'a acheté en décembre 2012, en mémoire de l'île sur laquelle il a grandi. ..In his previous lives he was called " Walk or Dream " (there you go!), "Gwenvidik" then "Loungta". Guirec renamed it "Yvinec" when he bought it in December 2012 in memory of the island on which he grew up.
Selon la fille du premier propriétaire (qui a dû s'en séparer parce qu'elle était trop jeune quand elle en a hérité) ce navire porte bonheur et nous voulons bien la croire ! ..According to the first owner's daughter (who had to get rid of it because she was too young when she inherited it) whomever sails Yvinec is guaranteed happiness. We believe it!
Yvinec a déjà traversé plusieurs fois l'océan Atlantique, a sillonné la mer Méditerranée et la mer Rouge avec son ancien propriétaire. Aujourd'hui, à son actif : 4 transatlantiques de plus, l'Arctique, le Pacifique, le Cap Horn, l'Antarctique ..Yvinec has already crossed more than once the Atlantic, has sailed on the Red Sea and the Mediterranean Sea with his former owner. Today with Guirec he crosses 4 times the Atlantic, sailed to Arctic, Pacific, Cape Horn, Antarctica.
Yvinec est maniable, robuste et offre une bonne stabilité directionnelle à toutes les allures. ..Yvinec is handy, robust and offers good directional stability at all speeds.
Les caractéristique techniques d'Yvinec ..Technical specifications of yvinec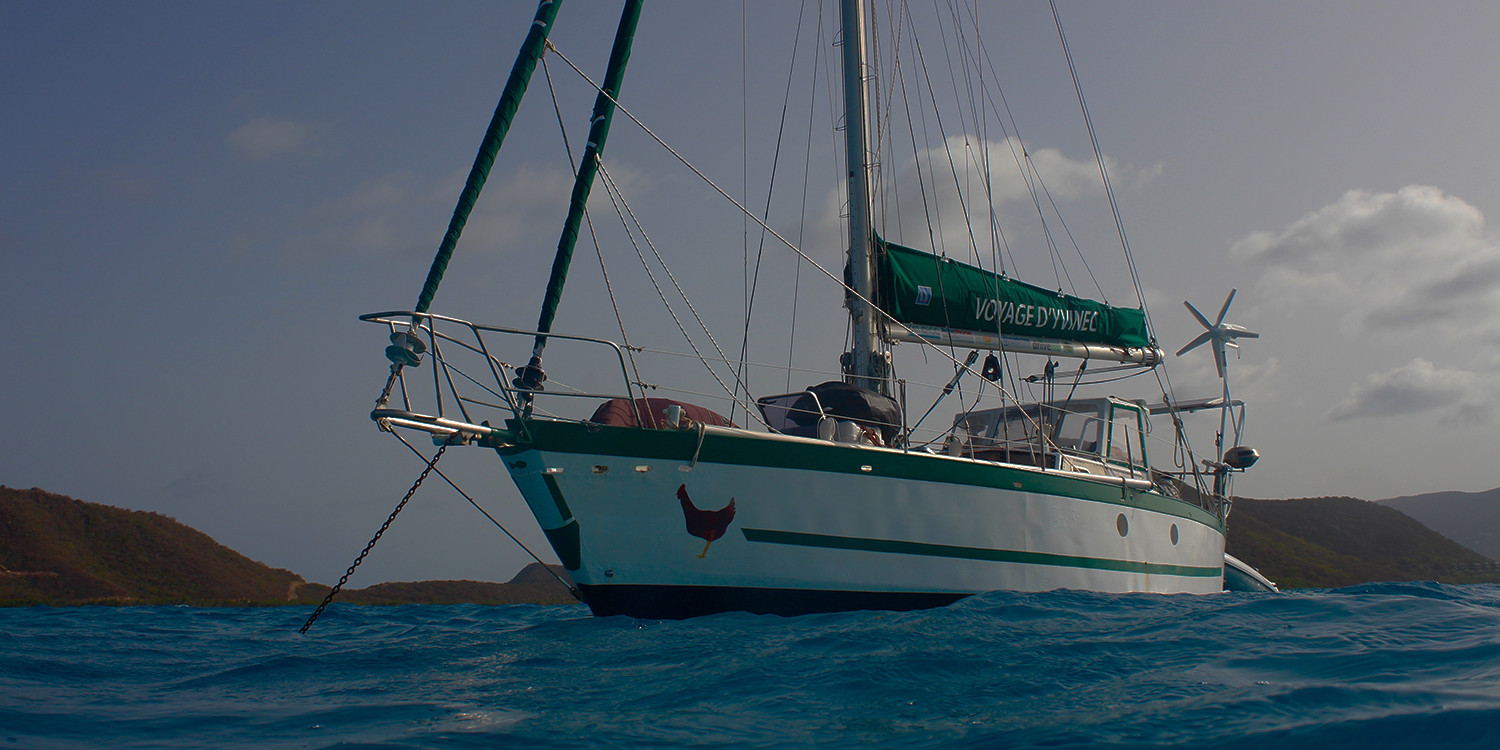 Coque et pont ..Hull and deck
Dériveur lesté, coque en acier de 11.80 m ..Ballasted 11.80 meters, steel hull

Longueur du pont : 9,50 m ..Length bridge 9.50 meters

Longueur hors tout : 10,80 m ..Length with bowsprit 10.80 meters

Longueur avec jupe et beaupré avec 11,80 m ..Length skirt and bowsprit with 11.80 meters

Longueur flottaison 8,20m ..Waterline length 8.20 meters

Largeur hors tout 3,45m ..Width 3.45 meters

Tirant d'eau 1.10 m : 2.20 m dérive haute, dérive basse 1.10 ..Draught 1.10 meters : 2.20 meters high drift, 1.10 meters low drift

Franc-bord avant 1,20 m ..Forward freeboard 1.20 meters

Franc-bord milieu 1,03 m ..Freeboard middle 1.03 meters

Lest 1600 kg ..Lest 1600 kg

Hauteur sous barrot 1,90 m ..Headroom 1.90 meters

Tonnage, 9,89 Tx ..9.89 tons gross tonnage

360 litres de diesel dont 280 dans la quille ..360 liters of diesel with 280 in the keel

150 litres d'eau douce ..150 liters of fresh water

La dérive ne rentre pas dans le bateau, mais dans la mini quille ..Ascent drift on the bridge that does not fit in the boat but in the mini keel

Antidérapant TBS sur le pont ..Tbs slip on deck
Cotre ..Cutter rig

Mât alu 12,30 m ..Mast aluminum 12.30 meters

2 enrouleurs (pour génois et trinquette) ..2 reels (for genoa and staysail)

2 Étais, 2 pataras, 1 spi, 1 grand voile 3 ris ..2 was, 2 backstay, 1 spinnaker, 1 mainsail, 3 reefs

1 frein de baume Walder ..1 balm brake Walder

Manœuvres ramenées au cockpit, mais pouvant également (pour les drisses) être exécutées au pied du mât ..Maneuvers back to cockpit but may also (for halyards) be executed at the foot of the mast
1 cabine double avant 2m sur 1,80 au plus large ..1 double cabin forward 2 meters 1.80 on the broader

1 cabine bâbord arrière de 2m ..1 port aft cabin 2 meters

2 couchettes dont une transformable en double (bâbord, tribord) ..2 beds including a convertible double (port, starboard)

1 cabine tribord technique avec WC ..Technical starboard 1 cabin with toilet

Douche extérieure pompe électrique (et manuelle) ..Outdoor shower electric pump (and manual)

1 évier, réfrigérateur 80 litres ..1 kitchen sink, 80 liters fridge

Grande table à cartes ..Large chart table
Instruments de navigation ..Navigation instruments
Pilote automatique ..Steering gear

Régulateur d'allure ..Autopilot

1 GPS fixe ..1 fixed GPS

2 GPS portables ..2 Portable GPS

1 navtex ..1 navtex

Une VHF fixe ..1 fixed VHF

3 VHF portables ..3 portable VHF

Loch speedo ..Speedo loch

1 girouette anémomètre ..Wind instrument

1 panneau solaire 105 watt.. 105 w solar panels

5 batteries de 98 ampères ..5 batteries 98 amperes

1 batterie moteur 105 ampères ..1 engine battery 105 amps

Guindeau électrique ..Electric windlass

1 Ais Classe B émetteur / récepteur ..1 Ais Class B transceiver / receiver

1 radar ..1 radar

1 merveille ..1 wonder

1 turbine D400 ..1 wind D400

1 moteur Perkins 40 hp ..1 engine Perkins 40 hp
Autres équipements ..Other equipments
1 Compresseur de plongée Bauer ..1 Bauer diving compressor

2 bouteilles de plongée, 15 et 12 L avec 2 pt. ..2 bottles of diving, 15 and 12 L with 2 pt.

1 Kitesurf, 1 SUP (surf / planche à voile) .. 1 Kitesurfing, 1 SUP (surfing / windsurfing)

1 paramoteur ..1 paramotor

2 générateurs 1000 watts ..2 generators 1000 watts

Un poste à souder à l'arc ..1 arc welder

Tout l'équipement nécessaire pour bricoler ! ..All the equipment necessary for do-it-yourself repairs!